According to the DoD CUI training, all CUI must have the acronym "CUI" in the banner and footer. On the cover page for the CUI, there must also be an additional section known as the "designation indicator," which has some additional information regarding the CUI contained within the document. This designation indicator must contain the following lines at the minimum and should be located in the lower right corner of the cover page.
Controlled By: Name of the DoD component (not required if identified in the Letterhead)

Controlled By: Identification of the office making the document

CUI Categories: Categories of CUI listed in the document

Distribution/Dissemination Control: Such as FEDCON or NOFORN

POC: Name and phone number or email of POC
A properly filled out CUI Document should look like the following (as per DoD CUI Identification and Marking training):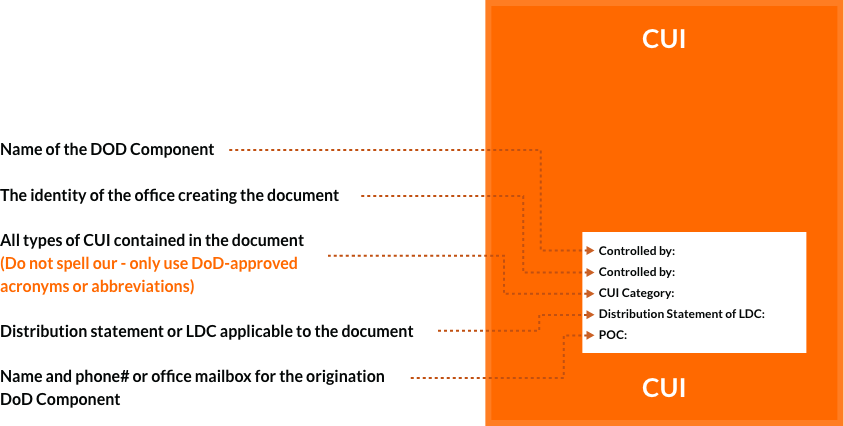 The General Services Administration (GSA) provides a CUI marking cover sheet for download here. Here is a real-world example of a properly marked Word document taken from the DoD's training: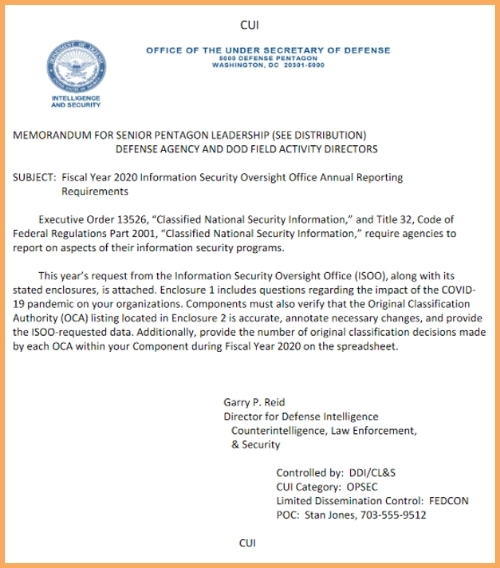 As you can see, there is only one "Controlled by" line in the designation indicator wherein the letterhead already includes the DoD component name. If there is more than one page, the designation indicator block is only required on the first page, while the CUI markings in the banner and footer are required for every page.
We suggest implementing a policy that all documents containing CUI require a cover sheet to ensure that the designation indicator blocks are correctly applied as well as to help make the CUI easy to identify. Easy identification of CUI makes it faster for your company to determine when it isn't being handled correctly.